It's been quite a while since I posted here, mainly because it's quite a task to keep up with all of the social media accounts and YouTube videos that I've been diligently working on for the last couple years or so. The last time I posted here, bitcoin was closer to $6k, before it fell to $3k and "my confidence in bitcoin's impending moon [was] at an ATH."
Oops.
I believe I made it clear in the videos that I linked to in the article that below about $6k was the obvious level to give up on my medium-term bullishness though. Of course, that drop from the $6k support down to $3k started on the first day of that year that I was working on a weekday, so I was too busy to mess with my alts in the meantime.
Anyway… since then I've made quite a few successful predictions, bullish from $3.1k most of the way up. For example, here's an instagram post in which I pointed out "bullish divergence spanning 440 days" when it was first hitting the bottom. Also, in tweets, I had also pointed out that $3.1k lined up pretty well with the bottom of wave 5 of the only Elliot waves I ever drew(back in 2017).
More recently, I made a video, "Trying to nail a medium-term top" from $13,700 where I discussed the fundamental reasons why I was bearish, which basically boiled down to the lack of attention to altcoins. It's somewhat funny in a couple spots (such as when I'm asked "so what's your plan instead of sulking and complaining?") and you might want to read the description and skip the part where I complain about twitter and YouTube as described with the timestamp links.
After that, I made a quick "Finally looking kinda healthy" video in which I went into the more technical side, discussed the importance of the 2H cloud(which applies to just about every chart) for the millionth time in about a year, and somewhat predicted the rise up to about $12k, placing an "Oh poop!" line at $12.1k. From work when it broke $12,100, I made yet another quick video warning people not to FOMO and officially changed my "oh poop!" line to $12,450 right before it spiked up there and got rejected, subsequently falling to the target I mentioned in the video around $9600.
And most recently at $12,020, I made a quick steemit post that goes into a little more detail about what I'm seeing right now, but the most important part is in the image below.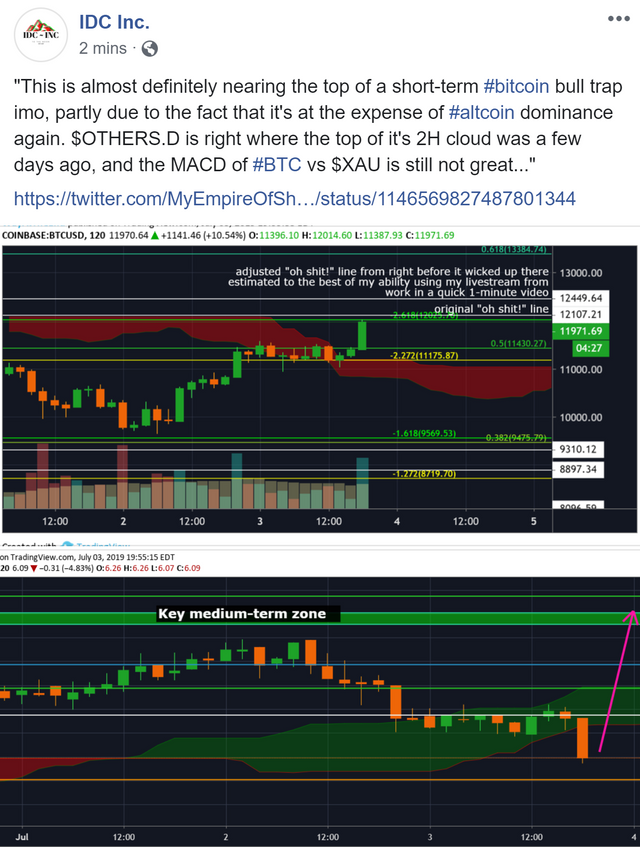 I intend to start making this a regular place that I post, but it is really hard to be putting as much effort into everything that I do with as little engagement as I get(shadowbans and regular bans etc haven't helped), so please do whatever you can to show your support if you would like to see more of this. On that note, here's a video showing some of the successful predictions since my last post here and why you might want to subscribe to my channel. All the links for everything that I've been doing can be found on my profile here or within the steemit articles.
Good luck.
-Tom
Check out my BlockDelta profile for additional articles.